Treatment for Psoriasis of the Scalp
Dr Kremer has designed special hair care products to help you with the treatment for psoriasis of the scalp.Unfortunately people who suffer from Psoriasis on in general 60% to 70% will also require treatment for psoriasis of the scalp.
Unlike many over the counter products for Psoriasis that contain a Tar substance which can cause staining in light coloured hair….Dr Kremers Shampoos and Scalp cream are made from Mud and Minerals from the Dead Sea.
Dr Kremer Scalp Cream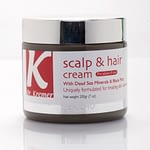 $39.00
Dr Kremers Scalp cream is a proven dermatologically tested product in treating psoriasis of the scalp. Our customers have said that the scaling and plaque significantly diminish over time.
The mud is a little cold and thick when you first apply to your scalp. It may even feel a little messy, it actually smells like mud as well. But when you look at the results you will achieve a little discomfort from the mud is nothing like the discomfort you maybe feeling now.
You will need to allow the dead sea mud to stay on your scalp for at least 10-15 minutes, this is so the minerals can go to work to provide needed nourishment for your scalp.
Getting rid of those flakes around your hairline should be a major priority and a Shampoo and Scalp cream are the best combinations we have to help you.
Dr Kremer Shampoo
$37.00
The Dr Kremer Shampoo by itself is very good for mild Psoriasis that comes and goes, but for heavy duty treatment we strongly recommend that you also purchase the Dr Kremer Scalp treatment.
Treating you psoriasis with a natural product like Dead Sea mud and minerals makes more sense to us than using a tar or heavy chemical based psoriasis product.
Do yourself a favour and purchase Dr Kremer Hair and Scalp treatments for Psoriasis today.
Treatment for Psoriasis of the Scalp