Psoriasis Shampoo By Dr Kremer proven to relieve that Itchy feeling
Our Psoriasis Shampoo by Dr Kremer is made of Dead Sea Mud and Dead sea minerals that have long been used to treat many different skin conditions….especially Psoriasis. We have had many customers purchase our shampoos to relive themselves of the constant itching and dryness of their scalp.
Dr Kremer Shampoo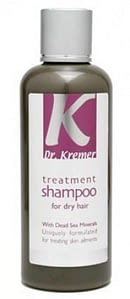 $37.00  (special $12.00)
Dr Kremer is well known for creating hair products to combat the effects of psoriasis on your scalp. His Shampoos for psoriasis and also Scalp Creams are dermatologically tested to provide you with confidence that the shampoos and scalp creams are the best available.
We have Shampoo for all hair types including normal, dry and oily.
Dr Kremer Hair and Scalp
$29.00
To further help you to relieve you of psoriasis of the Scalp we recommend that you also think about purchasing the Dr Kremer Scalp cream.
The Mud or cream is applied directly to your hair and scalp and left for about 10-20 minutes to allow for the minerals to absorb themselves into your scalp.
While the mud is a little thick it is easily spread through your hair to provide a very effective treatment for your scalp. We have had customers with very fine hair receive relief after just one treatment.
Combining the Dr Kremer Shampoo and Dr Kremer Hair and Scalp cream is the best combination that we have for relieving psoriasis on your scalp.
Psoriasis Shampoo