Pearl Facial Mask
Fresh Look Facial Pearl Mask is made from the finest of Pearl Powder available.
Little History of Pearl Powder
Pearl powder is a finely ground powder from real pearls and has long been regarded as a traditional Chinese medicine of high reputation.
According to Chinese medical literature, the use of pear powder as a top tonic medicine for treating diseases and skin care cosmetics can be traced far back to over two thousand years ago.
Because of its rarity and magic multifunctional properties in ancient China, pearl powder had been the most sought-after and expensive Chinese medicine but only affordable by royal families, high class officers or celebrities.
The Fresh Look Pearl Facial Mask May :
Improve your skin nutrition and metabolism, promote the growing of healthy new cells, retain the water in the epidermal layer of your skin, purge brown spots and other dark freckles in your skin, thus reducing wrinkles and make the skin whiter, finer, smoother, softer and more radiant, delicate to rejuvenate the appearance of skin.
By increasing the activities of some antioxidant enzymes, pearl masks can delay the skin aging. It has long been the most important ingredient in the expensive skin care products for ancient Chinese loyal families to keep their skin youthfully tender looking.
Facial Pearl Masks can also smoothen your skin and help your skin recover from skin problems such as acne, eczema, and rashes.
Fresh Look Pearl Mask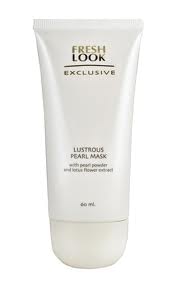 $49.00
Pearl Facial Mask