Thanks for shopping at Jericho Skin Care….all our prices are in Australian Currency.
We have a flat rate of $12 for orders under $50 and all other orders are FREE to send to you. However we reserve the right to charge an extra fee if the weight of your order is higher than normal
We send all Orders by Airmail to Australia, Singapore New Zealand,United States, Asia and Europe…….so please allow between 10 – 20 days for delivery.
We use Pay Pal as our provider of Shopping carts and payment options to protect you and us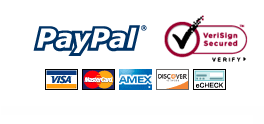 If you experience any problems or can't find a product or have any questions please email us directly and either my wife or myself will respond to you.