Oily Skin Care Treatment
Before giving you some recommendations for your oily skin, I think it is very important for you to learn a little about your skin.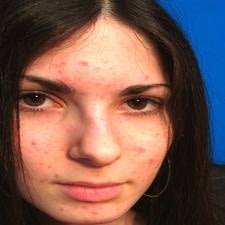 Some Basic facts Our skin is a living organ!!!
In one square inch of skin there are: 9 500 000 cells, 20 000 sensory cells, 1300 nerve endings, 650 sweat glands, 100 sebaceous glands, and 65 hairs.
Skin renews at a rate of 1 million cells per minute or five billion cells per day.
The skin has 7 prime functions
Protection: The skin acts as a barrier for the inner body and protects us from bacteria
Regulation: The skin controls our surface body temparature and maintains our internal body heat. It achieves this through perspiration.
Sensation: The skin contains so many nerve endings which allows our brain to detect stimuli like pain, heat, pressure and touch.
Absorption: While the skin has the ability to absorb oil based products, deeper penetration is achieved by natural essential oils
Excretion: The skin removes waste and toxins through perspiration and sweat.
Secretion: Sebum plays a major part in maintaining the surface of the skin in tact.
Respiration: The skin breathes by giving off carbon dioxide and taking in oxygen.
Okay now back to your oily skin condition
Causes of Oily Skin
Heredity, Diet, Hormone levels, Pregnancy, Birth control pills,Cosmetics you use, Humidity and hot weather . Because of the hormonal shifts of adolescence, oily skin is common in teenagers, but it can occur at any age.
In general, skin tends to become dryer with age. The flow of sebum or oil increases during adolescence and starts decreasing with age. During pregnancy and menopause, hormonal imbalances can also upset the oil balance and increase the activity of sebaceous glands.
One of the essential elements of a good skin care regime is keeping your skin as clean as possible.
What is the right approach for treating oily skin?
1. Light exfoliation for better drainage in order to release clogged pores.
2. Maintaining hygenic conditions on the skins surface.
3. All care products for this skin type should be non-occlusive oil-free formulations, in order not to further aggravate the condition.
4. Keeping the skin protected from damaging environmental factors such as pollution, smoking and free radicals.
5. This skin type does not usually need a moisturizer. It is well equipped by nature to maintain its own moisture, unless extremely drying medications such as "Accutane" are used.
6. Harsh degreasing "formulations" in cleansers are not recommended because they often provoke a vicious cycle of "re-fattening".
7. Temporary dryness due to environmental or other reasons may be dealt with by using a skin balancing emulsion.
NOTE: These treatment principles are relevant for your skin type regardless of the cosmetic products that you are using.
Jericho Black Mud Soaps
Jericho Soaps contain an unique composition of active minerals and trace elements from the Dead Sea. The all natural mineral soaps deep cleans your skin and leaves it feeling fresh and smooth.
$16.50 RRP $30.00
Jericho Foaming Facial Scrub
Jericho Cleanser opens your skins pores and gently and thoroughly removes impurities and make up residue in one easy step.
The Jericho Facial Scrub will leave your skin feeling fresh,smooth and clean.
$59.00 RRP $80.00
Local Treatment Mask 60ml
A creamy, quick-drying mask for local application on blemished, impure skin areas. This calming leave-on mask is ideal for use overnight, as it absorbs the excess oil and sweat that are constantly excreted to the skin's surface. Natural Tree Moss, Myrrh Balsam and Thyme oil promote hygienic conditions on the skin. Local Treatment Mask feels especially gentle on the skin, not stinging or over-drying. It will not stain or cause discoloration to bed linen. Its natural beige color helps conceal problem areas during the daytime.
Directions: After cleansing, use locally on impurities and blemished areas. Leave on overnight and rinse off the residue the next morning. During the day, apply a thin layer, lightly patting until absorbed. Makeup or Protective Day Cream SPF20 may be applied on top for environmental protection.
Purifying Mud Mask
Formulated with Dead Sea Black Mud and Bees wax, this all natural purifying mask boosts cell renewal, revitalizes the skin and softens pores.
$48.00 RRP $100
Purifying Mineral Soap 150ml
With Dead Sea Silt
This delicate cleansing gel lathers into a gentle creamy foam which, when rinsed off, leaves your skin smooth, perfectly clean and with a perfect Fresh Look! Contains a wealth of softening marine ingredients: Seaweed and Dead Sea silt with moisturizing Seabuckthorn extract to prevent over-drying.
Directions: Apply gel on moist skin. Lather gently, avoiding eye area. Rinse off with plenty of water.
Dead Sea Local Drying Lotion 30ml
With Dead Sea Minerals
A natural Dead Sea mineral suspension for local application on blemished areas of oily, acne- prone skin. Contains an optimal blend of herbal extracts (Echinacea, Witch Hazel, Sage, Lavender and Thyme) that maintains the hygiene of oily skin, purifies and absorbs waste and perspiration from the skin's surface without over-drying it.
Directions: Apply every evening to the required spots and leave on overnight. Due to the mineral content, a slight tingling may be felt when the lotion is applied to the skin. This sensation will quickly disappear as the lotion dries. Shake well before use.
Oily Skincare