100% Natural treatment for Eczema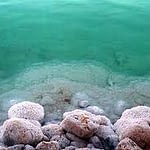 What is Eczema?
Eczema is a non-contagious, very dry and itchy skin condition. It mainly appears as an allergic reaction but will become worse when you are stressed. There are in fact many types of Eczema with the basic symptons shared by all. These symptons are a sore rash, dry skin and itchiness, which can lead to scratching, disturbed sleep and feelings of anxiety and depression. The rash is a pimply, red rash, often erupting into blistered, weeping and sore patches. The size of the rash depends on each individual. It is usually limited to small areas such as behind the knees or elbows, or on hands, neck and feet, however in more severe cases it can cover the whole body. The rash can worsen or disappear usually due to a change in the individual's lifestyle, diet, anxiety, sunshine and climate or perhaps moving to a new area with softer water. The rash is the main cause of emotional distress, however the other problem with Eczema is extremely dry skin.
What can I do to help my Eczema?
Because of the dry skin, lubricating and moisturising are the first priority of good treatment, once the skin is softer and more comfortable then the rash and irritation are less of a problem too.
Avoid ingredients that can cause this irritation such as washing powders, washing up liquids, chemicals and solvents. If possible avoid stress, this can worsen the condition. Feelings of anxiety and depression can be heightened during bouts of Eczema, try relaxing baths in Dead Sea Salts.
What products should I use?
Jericho Dead Sea Salts
Bathing in these pure Dead Sea salts calms stress and nervous conditions, the salts are healing and naturally exfoliating to remove any dry, rough skin. They naturally hydrate the skin too.
This is a very pure product which can be used to cleanse and moisturise the face and body. It can also be used as a bath oil alone or in conjunction with the Bath Salts. This product gives a barrier effect helping to seal and retain the moisture content.
Dead Sea Black Mud Soap
Black Mud Soap This product is recommended for dry skin conditions with a balanced pH therefore suitable for cleansing both the face and body.
Dead Sea Black Mud Shampoo
This awesome shampoo contains Dead Sea minerals to soothe an irritated, itchy scalp, to prevent flakiness and moisturise a dry scalp. All Dead Sea Jericho products contain pure Dead Sea minerals. These minerals exfoliate and hydrate the skin, they are antiseptic and antibacterial helping to prevent any infections and the minerals are balancing to the mind and body. You may find any of the products help your condition.
Black Mud Soap $16.50
Dr Kremer Face and Body Cream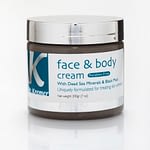 This cream is made with a unique patented formula for people with skin ailments such as Eczema and Psoriasis. Medical tests have proven that this combination of Dead Sea minerals and black mud brings relief from the itching, scaling, and inflammation attributed to seborrheic dermatitis, psoriasis, and other skin related problems.
This cream contains Dead Sea Water and mud rich in salts and organic matter, as well as iron and vitamins A, B, and E. It is a natural alternative for steroid cream and other chemical filled products usually prescribed for these conditions.
We recommend you try a natural treatment such as our Dr.Kremer cream before resorting to the harsher medicines.
Directions: Apply to affected area and allow to dry like a mask. Rinse off fully with luke warm water after drying. Do not exceed 30 minutes from applying before washing off.
Dr Kremer Face and Body Cream $57.00
Dead Sea Salt 1.2 Kg $45.00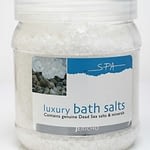 Uncented/Scented