Natural Bee Venom Mask
Introducing Natural Bee Venom Makeover Mask, the break-through organic facelift treatment. The Makeover Mask lifts, tightens and firms your skin. Stimulating naturally occurring collagen and elastin helps reduce fine lines and wrinkles, while Manuka Honey and Shea Butter soothes, calms and softens the skin for a youthful appearance.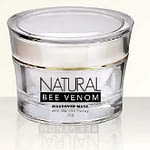 Rick Hughes the product developer behind the Natural Bee Venom Make Over Mask was an antiaging specialist practising in Beverly Hills for 15 years and he has given over 200 seminars in the US and UK on" turning back the clock" with non invasive and natural strategies.
"I believe that cosmetic surgery and injectables like botox are only a temporary solutions to aging" because as the Indians say "your face is a roadmap of where you have been."
In other words your face mirrors your lifestyle Since the skin displays the first signs of aging..around 25 yrs of age..Rick specialized in skin care at a cellular level by raising skin hydration and restoring collagen and elastin levels.
New Zealand has developed a reputation worldwide for the purity and quality of its products. Now New Zealand bee venom has captured the headlines in the cosmetic world and has received international awards recognising its quality and efficacy.
In the last few years the bee venom mask has been the preferred natural organic facelift treatment of royalty Camilla Parker-Bowles and Kate Middleton, and celebrities Michelle Pfeifer and Gwyneth Paltrow, and Carla Hughes-Liebline, international Ford model who has featured in "Elle", "Cosmopolitan", "Vogue", "Paris Match", "Marie Claire" and "Santa Barbara Fitness" magazines.
Bee venom, a recent breakthrough in anti-aging due to its restorative properties, is said to stimulate the skin and relax muscles that cause wrinkles.
It works by gently stinging the skin with melittin and apamin, both derived from bee venom. The skin reacts as if it has been stung, thereby jump starting the production of elastin and collagen, which are essential to youthful-looking skin.
The bee venom acts by "tricking" the skin to produce these naturally occurring proteins.
When I first tested Ricks bee venom product I could feel the active ingredients working instantly. For me that is a major sign that the product is working.
The mask spreads easily over your skin and it has a very natural smelling scent that does not exit in other face masks.
You also have the option of using it as a face and neck cream for day or night use.
The big difference that Rick has added to his Bee veno Mask is more concentrated ingredients.
If you are looking for an anti aging Bee venom ask then we highly recommend Natutal Bee venom Mask make Over by Rick Hughes
2 x 50g Bee Venom Masks for only $99.95
Natural Bee Venom Make Over Mask $69.95
Natural Bee Venom Mask