Moroccan Oil – For Great Hair Treatment
Moroccan oil has unique quality of providing instant absorption into your hair, creating an instant shine and long term conditioning.
Moroccan Oil
Strengthens and conditions
For all hair types
Directions: For healthy looking, smooth and striking shiny hair, apply a small amount throughout damp hair, style as usual. WARNING: Avoid contact with eyes.For external use only.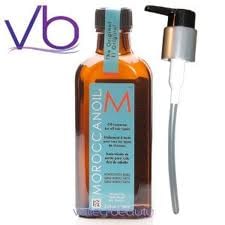 Moroccan Oil $69.00
Testimonial Reviews
BSM (Ashford, CT USA) –
I got this from my hair salon. My hair is naturally curly but I color it and it gets dry and frizzy. I use a little very very little by just tipping the bottle flat against my palm, rub into one side of towel dried hair and repeat for the other side. Style as usual. I found my hair dries naturally faster and looks shiny and great. He flat ironed my hair at the salon and it worked great that way too. I highly recommend it.
I colored my hair last night and woke up to dull dry hair. I used this as above and I can't get over how healthy and shiny it looks today.
LaFille (New York)
This product came highly reccommended to me by a friend now barely trims her ends since she started using MorocconOil. I have very curly hair that dries out and breaks very easily because I have to wet it every day to make my curls look fresh. I have searched high and low for products that will work with my curly hair – and I have always been disappointed after I spend the money and achieve no results. But ever since MorocconOil has come into my life, my hair has been transformed into shiny healthy hair. I don't ever plan to stop using this product. Just a little bit in damp hair is all I need. My hair is softer, shinier and even my curls are more defined – no residue or greasy feel. Let me also add that this stuff smells GREAT! I really wish I'd known about it earlier. I highly reccommend it since it is truly worth the price.