Manuka Honey Skin Care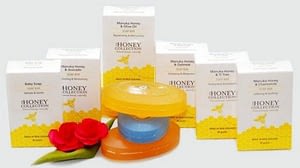 Based in New Zealand we have many natural products available to us and one of those products is Manuka Honey……Manuka Honey Skin care has become exceptionally popular since some of the medicinal properties of Manuka Honey has been proven to be effective by the latest research.
It shouldn't really be that surprising though as nature does provide us with so many of the answers to our all round health, including that of our skin.
The major benefits of honey is that it has anti-bacterial, antibiotic and anti-fungal properties. Honey is also an excellent product for drawing in water which keeps your skin hydrated for longer.
Now NOT all honey's are created the same…….for Manuka Honey to be effective you must use a special rating system that rates the active nature of honey (How much anti-bacterial strength does it have)
For honey to be effective in a therapeutic sense this can be achieved by using Manuka Honey with a minimum rating of UMF 10. The UMF value in the Manuka Honey skin care range we have on our website is UMF 15
The Anti Bacterial properties of Manuka Honey make it an obvious choice to help with Acne causing bacteria. Manuka Honey basically kills of the unwanted bacteria to keep your skin naturally sterilised and clean
Manuka Honey Skin Cleanser  $39
Completely Clean – Cream Cleanser
This gentle but full  bodied cleanser provides deep cleansing for all skin types.   It is designed to be soap free and contains no harsh or irritating ingredients.
This mild cream formulation contains UMF® Active Manuka Honey, chamomile extract, and lemon grass oil to compliment a soothing, moisturising cleanse.
It will not strip the skin of it's natural emollients but leaves the skin soft,smooth and hydrated, ready for the application of toner and moisturiser.
Manuka Honey Collagen Cream 60g  $49
Timeless Beauty – Collagen Cream 60gm
Avocado, Apricot kernel, Evening Primrose and Tocopherol oils have been blended with natural beeswax, rose water and collagen extract.
Collagen Extract and Manuka honey in this cream helps to increase the humidity of the skin and retain the natural moisture of the epidermis, giving protection and maintaining elasticity.
This cream will revitalise and replenish the skin, helping to repair and reduce the visible signs of ageing.
A very light cream which is suitable for day or night time use, or as a makeup base.
Manuka Honey Night Cream 100g  $49.95
Pure & Simple Cream 100gm
Treat yourself with this gentle nourishing cream blended from pure New Zealand UMF® Active Manuka Honey, beeswax, sweet almond oil, apricot kernel oil, tocopherol (Vit E) and natural rose water, delicately perfumed with natural fragrance.
This cream is ideal for use by those with average skin types.   It can be used either as a night cream or as a make up base.
Active Manuka Honey Cream for Skin Problems $39.00
This cream is really natures alternative skin treatment.   Your first aid kit in a tube. Formulated with 30% Active UMF® 15+ Manuka Honey and carefully selected complimentary natural oils and herbal extracts.   This cream will help moisturise and help recovery of severe skin disorders.   The natural oils combined with UMF® Manuka Honey will help soothe and repair irritated and trouble skin.   This cream may be used on many types of non specific skin disorders.
Manuka Honey Soap $12.00
Antibacterial and antisceptic New Zealand Ti Tree (Manuka) Oil has been combined with pure New Zealand Manuka Honey giving a soap that is suitable for all skin types but especially for those with problem skin.
Great Manuka Honey soap for Acne or excessive oily skin. Cuts or abrasions can be helped by using this all purpose soap bar
Manuka Honey Skincare