Jericho Mineral Serum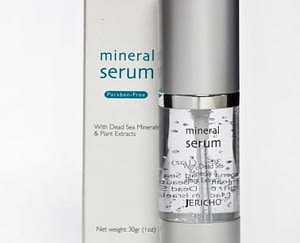 The Jericho Mineral Serum intensive anti-wrinkle serum contains an advanced complex of revitalizing and anti-aging components and vitamins based in green tea leaf extract, Dead Sea minerals, and seaweed.
It is designed to use any time, under or without make-up, to moisten, smooth, and firm your skin.
Directions: Apply a few drops of serum to your face and neck, especially around the eyes and mouth where wrinkles tend to develop.
Using Jericho Mineral Serum daily will result in restored skin with a smoother texture and a soft, supple appearance.
For Best Results: Use the Jericho Mineral Serum with Jericho Eye Gel and Moisturiser because they smooth wrinkles and delicate tissues around the eyes, moistening and protecting them from dryness and the products will last much longer.
Ingredients: Demineralised water (aqua), hydroxyethyl, ethylcellulose, PEG-8, methyl gluceth 20, glycolic acid, methyl paraben, bearberry (arctostaphtlos uva-ursi) extract, ropylparaben, seaweed extract, dead sea salt, camellia sinensis extract, fragrance
Jericho Mineral Serum
$85.00
Fresh Look Bio Serum 30ml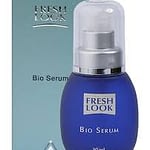 Fresh Look Bio Serum 30ml
Bio Serum complements the Dead Sea Facial Scrub. This fine moisture-binding fluid feels like silk pouring from a bottle. After using the Scrub, your skin will absorb the Bio Serum within seconds, giving your face a healthy radiant appearance.Bio Serum is a pure, unpreserved fluid, offering the benefits of premium natural oils (Babassu, Marigold & Wheat germ), and Vitamins (A, E & F) within an easily dispersible fluid base.
Directions: Apply a few drops over clean, dry skin and gently spread over the face and neck. Bio Serum is excellent when used under makeup. A single drop will smoothly lead your Powder Foundation SPF 17 to all facial areas giving it a perfectly finished appearance.
Jericho Mineral Serum