Paloma the Manufactures of the Jericho Dead Sea Skin Care Range
With over a million customers world wide, Jericho Cosmetics ("Flag Brand") by PALOMA Dead Sea Ltd. (factory) is the First and the Authority company to bring to the consumer the famous Dead Sea products.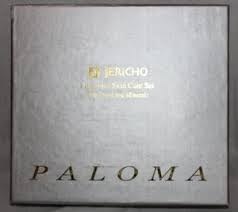 Paloma Dead Sea Cosmetics is a leading factory manufacturing its Dead Sea cosmetic & therapeutic products for Mineral Care (soap), Ahava, Hilton International, British Airways, Siemens & Co GmbH, thousands of businesses, Teleshopping Channels, spas, health centers & millions of satisfied individuals around the world.
For over two and a half decades Paloma Ltd successfully produces:
Anti Aging Skin Care and Face Creams, Revolutionary Therapeutic skin products, Mineral Black Mud masks, unique Bath Salts, Special Soaps, Exclusive Pregnancy Cosmetics, The first Creams for Golfers with Dead Sea minerals, many other types of Astonishing Creams and Gels.
We were the first manufacturer from the Dead Sea.
Strict standards production guidelines
Benefit from clinically tested and strictly hygienic products.
Products are produced in a Green environmental free factory
We offer the most advanced therapeutic skin care products from the Dead Sea.
Our incredible Dead Sea products are famous for treating skin diseases. Paloma products promote, relaxation and reduce psychological stress.
All our products are fully natural and chemical free.
Benefit Products that are not tested on animals.
Twenty-six years ago, Mr. Eli Segev, Paloma's Dead Sea products founder, created the first company to produce hygienic and therapeutic products based on the dead sea salts, minerals and black mud.
Uncompromising in the search for quality, innovative spirit and hard work has positioned Paloma Dead Sea products and its brand names "Jericho" cosmetics and "Pregnancy Cosmetics" as leaders in the natural health and beauty products industry.
The bottom line is that people really enjoy the outstanding value we offer.
Wouldn't you like having the best products, service and the best deals?
Jericho Paloma