Jericho Men's After Shave Balm 150ml
Without doubt the Jericho men's balm would be one of the most popular Dead Sea after shave balms we sell. Not only is it smooth and luxurious to put on you face, the actual smell of the balm is both masculine but sweet.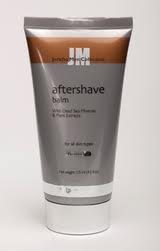 Rich in Dead Sea minerals, JM Aftershave balm soothes razor burns and leaves the skin smooth, supple and well protected. Jericho After Shave Balm enriched with Dead Sea minerals and a combination of rich plant extracts
Proxyton (a complex of vitamins and minerals)
to soothe and nourish your face by restoring the balance of moisture while stimulating oxygen absorption and cell breathing in your skin.
Indications
Formulated with high-quality minerals from the Dead Sea to effectively combat razor bumps and burns. Protects skin and provides much-needed moisture after shaving.
Ingredients
Demineralised Water (Aqua), Stearic Acid, Fragrance (Parfum), Dimethicone, Alcohol Sd 40, Isopropyl Myristate , Triethanolamine, Propylene Glycol, Cetyl Alcohol, Phenoxyethanol & Chlorphenesin & Propylene Glycol & Sorbic Acid, Proxytom, Perfluorodecaline & Glycoproteins & Green Tea Extract, (Camelia Oleifera Ex.)& Grape (Vitis Vinifera) Seed Extract & Sea Salts (Dead Sea Minerals) & Retinyl Palmitate-vitamin A & Tocopheryl Acetate-vitamin E & Linoleic Acid & Arachidonic Acid -vitamin F & Linolenic Acid, Polyquaternium 10, Aloe Vera (Barbadensis) Gel, Benzophenone-4, Allantoin.
Jericho After Shave Balm for men is a great product that most men will love. Re orders are exceptionally high for this great Dead Sea men's after shave lotion
Jericho Men's After Shave Balm