Jericho Eye Gel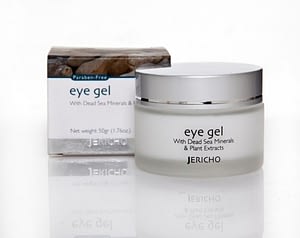 Use Jericho fragrance-free light Eye Gel with active minerals from the Dead Sea is a perfect eye tretment to soothe and protect the delicate eye area from dehydration and signs of aging.
The Jericho Eye gel smoothes wrinkles and delicate tissues around the eyes while it moistens and protects from dryness. Jericho's Eye Gel helps maintain the skin's natural elasticity and youthful appearance.
Directions: Apply daily around the eyes; morning and evening.
For Best Results: After applying the Eye Gel, nourish the rest of your face by applying a thin layer of Jericho Mineral Serum. It has revitalizing and anti-aging components to keep your skin clear and glowing.
Ingredients: Demineralised water (aqua), polysorbate 20, thriethanolamine, carbomer, imidazolidinyl urea, methylparaben, glycerin, propylparaben, dead sea salt, dead sea black mud (slit), propylene glycol.
Jericho Eye Gel 50g…. $60.00
A special enriched cream that provides hydration and protection for the delicate skin around the eye and help reduce the appearance of fine lines. Contains active oil-soluble vitamins such as revitalizing vitamin A, essential fatty acids (vitamin F) and antioxidants. Softening herbal extracts such as Mallow, St. John's Wort, Yarrow and Chamomile have been added to calm and smooth the skin. Refined emollients act as sealers to lock in moisture.
Directions: Apply by gently patting over eye contour area. Use morning or night. Excellent under and/or over makeup to reduce the visibility of fine lines around the eyes.
Fresh look Eye Cream $55.00
Jericho Eye Gel