Jericho Cosmetics is a Dead Sea Company that provides the Jericho brand all around the world including Australia, New Zealand and Singapore. In fact the Jericho manufacturer is Paloma and the distributor is Jericho Cosmetics.
Jericho cosmetics prices for Jericho Skin care are very affordable. If you check our prices on our www.jericho-skincare.com website you will find our prices are around half price of what you would pay for Jericho cosmetics in Australia or even Singapore.
 Jericho Cosmetics Video
Some of the more popular Jericho Skin care products include Jericho Bath Salts and Jericho Black Mud. Our most popular Jericho black mud skin cae products are the jericho Mud Masks and Jericho Black Mud soap……..and the most popular Jericho Bath salts are the 1.2 kg size.
The Jericho Bath salts in particular are exceptionally popular for people who suffer from psoriasis and other severe skin conditions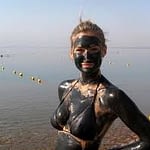 Dead Sea Black Mud
A little more information about Paloma the manufacturer of Jericho cosmetics
Paloma Dead Sea Ltd. was the first company to develop and market cosmetic and therapeutic products based on Dead Sea salts, minerals, and black mud. Uncompromising quality, innovative spirit and hard work have positioned Paloma Dead Sea and its Jericho Cosmetics products as a leader in the Natural Health and Beauty Products industry.
Today, Jericho Cosmetics are used by satisfied customers worldwide, including corporations such as Hilton International, Wella Cosmetics, and Wallgreens.
Why Paloma?
    Paloma products have been applied successfully for over 20 years with proven results.
    Paloma products have been researched, developed and tested by experts in the field.
    All products comply with ISO 9002 standards, do not include animal ingredients and are not tested on animals.
    Paloma offers a wide range of top-quality cosmetics and therapeutic products at competitive prices.
    Paloma continuously develops new products to meet customers' needs.
    Paloma guarantees short order fulfillment time and can ship to anywhere in the world
Jericho Cosmetics Review Video
Jericho mac cosmetics sometimes get confused as the same brand. But in fact Mac Cosmetics is a very famous brand of cosmetics that are not related to Jericho cosmetics.
For the best prices on Jericho Cosmetics Dead Sea Skin care products in Australia, New Zealand and Singapore then we can help you. We have been selling Jericho cosmetics online now for over 8 years, and we are happy to provide skin care advice so that you gain the best out of your Dead Sea skin care products from Jericho.
Jericho Dead Sea Mud Soap, Jericho Mud Masks, Jericho Salts Scrubs and Jericho Premium products are all available.
Jericho Cosmetics