Fresh Look Skin Care for Your Normal & Combination Skin
Normal skin, commonly expected to be the most widespread of all skin types – is only a temporary condition that may change with time. As a basic skin care program, these multi-functional products have been selected to help you maintain healthy skin.
What is the "Basic" of Basic Skin Care?
1. Keeping the skin clean.
2. Moderate exfoliation to remove build-up of dead cells and to trigger a gentle renewal process.
3. Protecting from the damaging effects of the sun and other environmental hazards.
4. Assisting the skin to retain its moisture, especially in the eye contour and other areas that quickly dry out.
5. Nourishing the skin from within by employing the principle of osmosis, rather than "feeding" the skin from the outside.
6. Respecting the natural physiology of the skin by choosing the mildest and most appropriate products possible for your skin type.
NOTE: All of the above recommendations are based on the treatment principles symbolized by the EOP triangle that underlines the Fresh Look philosophy for healthy skin care.
Dead Sea Facial Scrub 50ml
With Dead Sea Minerals
The Facial Scrub is a unique exfoliating scrub based on Dead Sea mineral crystals and Pineapple enzymes.
It removes dead cells, improves skin tone and thoroughly cleanses the skin to leave it feeling wonderfully smooth. The Facial Scrub is so unique, it actually tells you when to stop!
The scrubbing particles easily dissolve in water and, in fact, are activated by it. Facial Scrub stimulates and activates the skin by the process of osmosis.
It helps nourish skin cells from within and purifies the skin, ridding it of its waste.
Directions: Apply Facial Scrub to both cheeks. Moisten your fingertips with water and pat gently to dissolve the crystals. Spread outwards across the face, avoiding the eye area. Add more water if required. Concentrate on problem areas and impurities, such as blackheads.
When fully dissolved (after 30 to 60 seconds), rinse off thoroughly with cold water.
Facial Scrub $48.00
Bio Serum 30ml
Bio Serum complements the Dead Sea Facial Scrub. This fine moisture-binding fluid feels like silk pouring from a bottle.
After using the Scrub, your skin will absorb the Bio Serum within seconds, giving your face a healthy radiant appearance.
Bio Serum is a pure, unpreserved fluid, offering the benefits of premium natural oils (Babassu, Marigold & Wheat germ), and Vitamins (A, E & F) within an easily dispersible fluid base.
Directions: Apply a few drops over clean, dry skin and gently spread over the face and neck. Bio Serum is excellent when used under makeup.
A single drop will smoothly lead your Powder Foundation SPF 17 to all facial areas giving it a perfectly finished appearance.
Bio Serum $89.00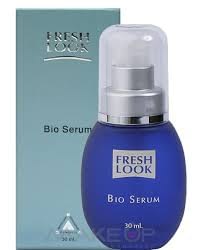 Fresh Look Normal Skincare