Exceptional Eye Care from Fresh Look
The most lively and exciting part of the face is the eye contour area. Often considered as the mirror to the soul – the eyes are always beautiful! But, being especially gentle and vulnerable, they also require special care.
The eye contour area, having a very thin horny layer and sparse in sebaceous glands is especially gentle and delicate. The skin around the eyes is the thinnest of all and therefore susceptible to develop wrinkles and expression lines.
Alternatively, it may develop puffiness due to excess fluids accumulated under the eyes.
In order to best support the barrier function in this area and prevent premature wrinkles, a two tiered strategy is required.
Using moisture binding formulations that slow down water loss while minimizing or totally eliminating the use of emulsifiers.
And, in order to reduce under eye fluid retention, using water based, non occlusive formulations that contain peptide based "lifting" components and herbal astringents that exert a gentle tightening effect on the skin.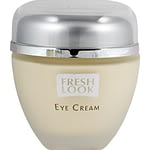 Eye Contour Cream 30ml
A special enriched cream that provides hydration and protection for the delicate skin around the eye and help reduce the appearance of fine lines.
Contains active oil-soluble vitamins such as revitalizing vitamin A, essential fatty acids (vitamin F) and antioxidants. Softening herbal extracts such as Mallow, St. John's Wort, Yarrow and Chamomile have been added to calm and smooth the skin. Refined emollients act as sealers to lock in moisture.
Directions: Apply by gently patting over eye contour area. Use morning or night. Excellent under and/or over makeup to reduce the visibility of fine lines around the eyes.
Eye Contour Cream
$55.00
Under-Makeup Cream 40ml
A special cream designed to "fill in" wrinkles, especially for those who regularly use make-up, which often tends to accentuate them.
Despite being rich in oils, it creates a silky, matt appearance. Genuinely helps keep makeup affixed to the skin. Instead of applying fixing powder on top of the makeup, this cream is applied beneath it.
Under make up may also be used on its own as an eye contour cream for everyday use.
Directions: Spread onto the face, especially to the delicate eye and neck areas. Once it is absorbed, any shininess will disappear. It can also be used as a regular, delicate skin care cream that leaves an elegant, matte appearance.
Under Make Up Cream
$45.00