Fresh Look Bio Serum for sealing in your Natural Skins Moisture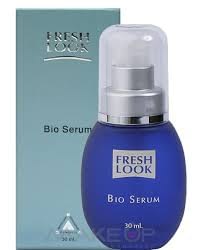 Fresh look Bio Serum is a natural face serum that works to "Seal in Moisture into your skin" and it also allows more moisture to be absorbed from the outside in.
This double action of the Bio Serum not only keeps your skin looking natural but it also ensures that any moisturiser that you add will actually last longer.
The 100% natural oils used in the serum comes from the famous Amazon region where a special palm is used to create "Babassu" oil the other oils are Marigold and wheat germ.
Other important Vitamin ingredients essential for great looking skin have been added. Vitamin A well known for supporting smooth skin….Vitamin E known to help eliminate or reduce the effect of Free Radicals……Vitamin F known to repair tissue damage in the skin tissues.
The Fresh Look Bio Serum can be used for all skin types but certain skin conditions like Acne and oily other products would be suggested.
Fresh Look Bio Serum $49.00
Fresh Look Bio Serum
Customer feedback
Hi William,
a few months ago you gave me some suggestions about trying a different skin regime. I was extremely resistant to it, believing that my regime at thetime was the best for my skin.
However, fortunately I did take up your advice, and went with your suggestion of trying a different moisturiser and serum.
This has resulted in my skin being far more supple and youthful than ever before. I realise now that my thoughts that I was enriching my skin with avery rich moisturiser was actually misguided. I was overloading my skin with the richness, and probably overusing it.
I had not understood my skin properly. You did.
The skin care products you recommended have been absolutely beautiful andare doing the job completely. My skin doesn't ever feel heavy any more.Also, the rosacea that I had terrible trouble with has now greatly reducedto a very rare episode.
So, a big thank you for considering WHAT we buy, not just that we buy yourproduct. Thank you for thinking about the best product for the individual client.
And luckily I wasn't so pigheaded and proud that I refused to be open to anew consideration.
You are welcome to use this feedback if you would like.
Janine (Australia)