Foaming Facial Scrub by Jericho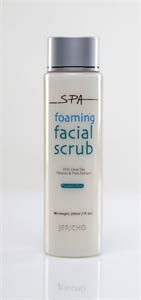 Buy Jericho Facial Scrub Today…….Click here
Jericho's Foaming Facial Scrub is a unique foaming cream that cleans, moisturizes and gently exfoliates your skin.
It is rich in Dead Sea minerals and contains vitamin C and chamomile extract. The chamomile extract softens and calms your skin while the vitamin C gives it a radiant look.
It also contains a blend of natural Jojoba oil, corn oil, and aloe vera gel.
Jericho's dead sea Facial Scrub removes dirt, make-up, sebum, and environmental pollutants known to clog pores and make skin look older.
Directions: Rinse your face with warm water. Apply the gel to face and neck with gentle rotating motions. Rinse thoroughly.
For Best Results: Follow with a Jericho Toner to retain your skin's natural PH balance.
Then use either the moisturizing cream for day care or the nourishing cream for night care to keep your face moisturized and glowing.
Foaming Facial Scrub