As a Beauty therapist I recommend using a daily facial moisturizer as part of your skin care routine.
Gently cleansing your face with a facial scrub first will remove dead skin cells, dirt and bacteria, but it also strips the skin of needed hydration.
Water and not oil in your skin keeps it plump and smooth, whereas when your skin becomes dry it loses it's elasticity, making it more prone to developing wrinkles.
There are two types of facial moisturizers, lipid-based moisturizers that lock in that water by either blocking it from escaping from the outermost layer of your skin and moisturizers that draw water from the inner dermis of your skin and toward the top the of your skin (humectant moisturizers).
Fresh Look Intensive Moisturizer is a humectant type.
A luxurious facial cream with a velvety texture. Contains a Phytosterol complex that promotes the skin's barrier function. Humectants and essential fatty acids have been added to help replenish dry skin.
The moisturizer is rapidly absorbed by the skin leaving it looking fresh and radiant.
Directions: Apply in the evening to face and neck after cleansing. During the day the Intensive Moisturizer may be applied under Fluid Makeup or Protective Day Cream SPF 20.
It's better to apply your moisturizer to damp skin, and it should cover your face as well as your neck.
Intensive Moisturiser $65.00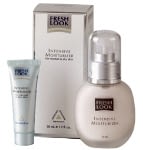 Fresh Look Facial Night Cream
Fresh Look Night Rich Cream 50ml
An active exfoliating cream designed to soften, and gently exfoliate facial skin in order to enhance skin renewal. Replenishes the skin with a vital moisture complex that mimics the skins own NMF (Natural Moisturizing Factor).
The effective hydration obtained due to it's presence, supported by Aloe Vera Leaf Juice, eases the process of dead cell removal and minimizes any tingling or discomfort. Extract of tender Indian Lotus Flowers and vital nutrient elements give the skin a rejuvenated appearance.
The wrinkle smoothing Hibiscus seed oligo-peptide and Matrixyl 3000 have been added as a safe cosmetic substitute to interventive wrinkle smoothing injections in order to minimize expression lines and give the skin a smooth radiance. Application at night will gradually reveal a fresh underlying skin layer that is smoother, softer and better moisturized.
Directions: Apply to face and neck after your evening cleansing. Keep away from the eyes. Due to the presence of fruit acids, a slight tingling may be felt during initial applications. Discontinue if this becomes uncomfortable.
Note: Throughout the use of this product , always protect your skin during the day with a sun protective cream that has an SPF 20 or higher
Fresh Look Rich Night Cream $75.00
Triple Lift Protective Face Moisturizer SPF 30 30 ml
A sophisticated day cream that deeply moisturizes and smoothes expression lines.
Micro-pigments in the formula lightly conceal uneven skin tone and provide a broad UV protection to minimize sun damage and reduce signs of premature aging.
Triple Lift is the ideal base under your lip and face makeup
Directions: Apply daily. Massage and pat repeatedly over the exposed facial areas, especially onto expression lines (upper lip, eye contour) until the cream is fully absorbed.
Triple Protect $79.00
These moisturizers from Anna Lotan's Fresh look range is what we suggest you use.