Dead Sea Face serums have the ability to penetrate deeper into the layers of your skin than moisturisers.
Our Fresh Look and Jericho Serums have been used mainly for dry, oily and anti ageing skin conditions. The face serums once applied to your face feel unbelievably soothing and will absorb very quickly into your skin.
We normally would suggest that you also combine your eye gels or face moisturisers when using your facial serum, as this will make both products last a little longer.
Cleanse your face then apply toner and then apply your Bio serum before your moisturiser. A moisturizer has larger molecules than a serum. This means that a moisturizer will not penetrate the skin as far as a serum will.
While serums deposit nutrients, moisturizers are meant to deposit moisture and hydration your skin.
Our most popular face serum products are Fresh Look Bio Serum, Fresh Look Exclusive Recharging Serum and Jericho Mineral Serum.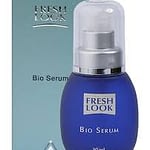 Bio Face Serum 30ml
Fresh Look Bio Serum is a fine moisture-binding fluid that feels like silk pouring from a bottle. After using the Scrub, your skin will absorb the Bio Serum within seconds, giving your face a healthy radiant appearance.
Bio Serum is a pure, unpreserved fluid, offering the benefits of premium natural oils (Babassu, Marigold & Wheat germ), and Vitamins (A, E & F) within an easily dispersible fluid base.
Directions: Apply a few drops over clean, dry skin and gently spread over the face and neck. Bio Serum is excellent when used under makeup. A single drop will smoothly lead your Powder Foundation SPF 17 to all facial areas giving it a perfectly finished appearance.
Bio Serum $89.00
Intensive Recharging Serum 30 ml
This herbal recharging emulsion offers an excellent replacement for interventive wrinkle smoothing treatments.
A marked cumulative effect will be noticed after 2-3 weeks of use and provide a softer and younger looking skin.
Contains a wealth of biologically active ingredients, herbal proteins in form of easily absorbed peptides which minimize expression lines.
Plant butters and exotic rain forest seed oils rich in nutrients that have a softening effect on the skin and reduce TEWL (Trans Epidermal Water Loss).
A novel preservative system has been joined with effective antioxidants to preserve the quality of the wealth of natural components present in this formula.
Directions: Smooth over dry facial areas 1-2 times a day, with smooth massage movements. The emulsion will be readily absorbed by the skin leaving it smooth and radiant.
Recharging Serum $99.00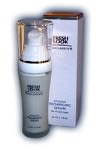 The Jericho brand intensive anti-wrinkle Mineral Serum contains an advanced complex of revitalizing and anti-aging components and vitamins based in green tea leaf extract, Dead Sea minerals, and seaweed. It is designed to use any time, under or without make-up, to moisten, smooth, and firm your skin.
Directions: Apply a few drops of serum to your face and neck, especially around the eyes and mouth where wrinkles tend to develop. Using Jericho Mineral Serum daily will result in restored skin with a smoother texture and a soft, supple appearance.
Ingredients: Demineralised water (aqua), hydroxyethyl, ethylcellulose, PEG-8, methyl gluceth 20, glycolic acid, methyl paraben, bearberry (arctostaphtlos uva-ursi) extract, ropylparaben, seaweed extract, dead sea salt, camellia sinensis extract, fragrance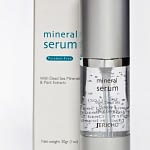 Face Serum