Treatment for Dry Skin
Before giving you some recommendations for your dry skin, I suggest you learn a little about your skin first.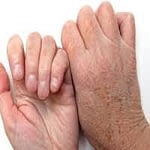 Some Basic facts
Our skin is a living organ!!!
In one square inch of skin there are: 9 500 000 cells, 20 000 sensory cells, 1300 nerve endings, 650 sweat glands, 100 sebaceous glands, and 65 hairs.
Skin renews at a rate of 1 million cells per minute or five billion cells per day.
The skin has 7 prime functions
Protection: The skin acts as a barrier for the inner body and protects us from bacteria
Regulation: The skin controls our surface body temparature and maintains our internal body heat. It achieves this through perspiration.
Sensation: The skin contains so many nerve endings which allows our brain to detect stimuli like pain, heat, pressure and touch.
Absorption: While the skin has the ability to absorb oil based products, deeper penetration is achieved by natural essential oils
Excretion: The skin removes waste and toxins through perspiration and sweat.
Secretion: Sebum plays a major part in maintaining the surface of the skin in tact.
Respiration: The skin breathes by giving off carbon dioxide and taking in oxygen.
Okay now back to your dry skin condition
Dehydration of the skin surface is one of the most common skin problems. The major causes of dry skin are evaporation of moisture and the removal of natural oils from your skin. The use of harsh soaps and alkali based products are major contributors to dry skin conditions. Winter, funny enough is a season to watch out for, loss of moisture from your skin through use of air-conditioners in homes and offices.
The Jericho Dead Sea and Fresh Look products I have found to be the best suited for dry skin are the
Dead Sea Mud, Dead Sea purifying mud mask, Fresh Look Beauty Mask, Dead Sea body butters,Fresh Look Intensive Moisturiser, Dead Sea moisturiser,Fresh Look Rich night cream, Dead Sea nourishing cream, Dead Sea Cleansers and toners and a new product called Fresh Look Phytol.
One thing to remember for you and your skin….. The skin is the largest organ for elimination and must be kept free from waste. The use of a good quality cleanser is an absolute must.!!
Fresh Look Beauty Mask 60ml
For dry dehydrated skin
A softening mask for enriching mature dry skin. The Shea butter gently melts on the skin smoothing rough and dry areas. The Phytosterols enhance the moisture retention of the skin cells. The Chamomile extract together with rice starch soothe the skin leaving a velvety soft touch.
Directions: Spread a generous layer on the face and neck. Leave on for 15-20 minutes. It is not necessary to remove the mask from the skin. The remainder may be gently absorbed with a damp cloth. Repeat once or twice a week, especially after sea bathing or prolonged sun exposure.
Beauty Mask $48.00
Intensive Moisturizer For normal to dry skin 50ml
A luxurious facial cream with a velvety texture. Contains a Phytosterol complex that promotes the skin's barrier function. Humectants and essential fatty acids have been added to help replenish dry skin. The moisturizer is rapidly absorbed by the skin leaving it looking fresh and radiant.
Directions: Apply in the evening to face and neck after cleansing. During the day the Intensive Moisturizer may be applied under Fluid Makeup or Protective Day Cream SPF 20.
Fresh Look Intensive Moisturiser
$65.00
Jericho Premium Body Butters
Nourish and soothe your body with Jericho Body butter. Combining Shea Butter, dead sea minerals and natural oils that soften and revitalize your skin.
The body butter is of a thick cream which moistens rough skin and revives its elasticity without clogging pores.
Rich in Vitamin A and E which makes Jericho Body butters ideal for treating dry skin cracked elbows, knees, scars and dermatitis
$70.00 Rich Night Cream 50ml
This Rich Night Cream contains exclusive emollients with intensive moisturizing agents to provide extra care for dry skin. Herbal antioxidants, oil soluble vitamins (E and A) assist in maintaining the skin's softness and youthful appearance. Natural plant butters reduce water loss from the epidermis and strengthen it's barrier function. Regular use of this cream will help smooth the skin and reduce the appearance of wrinkles.
Directions: Spread gently over face and neck every evening after cleansing. Especially recommended for mature dry skin during summer months a refreshing replacement for an active exfoliating "renewal program".
Fresh Look Rich Night Cream
$75.00
Phytol 30ml
An exclusive natural oil supplement formulated to support the barrier function of dry mature skin. Contains a wealth of carotene-rich phyto-extracts: Dunalliela Salina, Siberian Seabuckthorn and Chinese Lithospermum that are the source of Phytol's natural red-orange color. These ingredients, together with Vitamins E and F act as free radical scavengers in order to protect the skin and prevent premature aging.
Directions: Apply a drop or two and spread lightly with fingertips over dry facial areas, eye contour and neck. For best results apply under any dry skin care product. This product is free from chemical preservatives! It is packed in a special bottle to protect it from UV light. Store in a cool dry place!
Product coming soon
Fresh Look Phytol
$75.00
Foot Cream
Enriched with natural minerals from the Dead Sea…..our foot cream effectively softens rough and scaled skin
Jericho Foot Cream
$30.00
Jericho Hand Cream
Jericho hand cream absorbs quickly, protecting your hands from dryness and kepping the skin soft and silky.
Hand Cream
$30.00