Our Dry Skin Cleanser from Fresh Look has been made specifically for our Exclusive range of skin care products devoted to dry skin.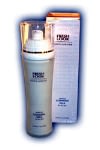 One of the key ingredients is a very special oil called "Pequi"
Pequi Oil
The pequi is a tree native to Brazil. The pequi produces a fruit that is both prized for its role in the Brasilian diet as well as for the nutritive oil that can be produced from the fruit's seeds.
Pequi oil….(caryocar braziliensis)possesses a unique combination of essential fatty acids and is highly emollient, making it an effective moisturizer for products intended to heal dry and cracked skin, eczema and psoriasis.
It can also be used in the production of specialty soaps intended to aid skin conditions.
When used in hair care formulations, pequi oil helps smooth the hair cuticle to increase smoothness and shine and decrease frizziness.
Properties:
High in Essential Fatty Acids

Rich in Vitamin A
Pequi Oil is a highly recommended ingredient in products for:
Mature, Aging Skin,Dry, Cracked Skin,Eczema, Psoriasis and Other Dry Skin Conditions,Brittle and Damaged Hair
This is just one ingredient in our Fresh Look Dry Skin Cleanser the other is Marshmallow.
Botanical Name: Althea officinalis
Plant Family: Malvaceae
Common Names: Cheeses, Guimauve, Mallards, Mauls, Mortification Root, Schloss Tea, Sweet Weed, Wymote
History: The name Althaea comes from the Greek altho, 'to cure', and Malvaceae comes from the Greek Malake, 'soft'.
It has been used for centuries as a food by the Egyptians, Greeks, Romans, Syrians and Chinese and as a medicine by the early Arabian physicians who also used it as a:
poultice made from its leaves and applied to the skin to reduce inflammation.
With natural oils from Brasil combined with Marshmallow you have a great combination to create a dry skin cleanser that will help you to achieve great results for your skin.
Fresh Look Milk Cleanser 120ml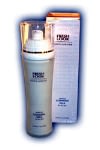 $49.00