Dead Sea Spa and Body Care
Dead Sea Spa and Body care products to protect your bodies largest Organ…..your skin.
It is essential to respect the body's largest organ, the skin, by keeping it clean and healthy and by supporting its natural function as a barrier.
The skin care principles of
EXFOLIATIONOSMOSISPROTECTION
are as relevant for body care as they are for facial care.
1. EXFOLIATION will keep the skin soft and smooth and enhance its renewal.
2. OSMOTIC pressure resulting from the use of minerals in the products, will improve nourishment from within and enhance waste disposal through evaporation.
3. PROTECTION from the sun will prevent premature aging.
4. PROTECTION from free radicals will diminish cell damage.
5. PROTECTING the skin's barrier function will maintain its healthy functioning.
Using mild herbal ingredients as natural preventive remedies will discourage growth of undesirable flora on the skin.
Mineral Hand Cream 125ml
With Dead Sea Minerals
Dead Sea minerals and seawater algae moisturize the skin and support its barrier function. Mildly astringent Knotweed, rich in silicic minerals, firms the skin and eliminates cracks and minor cuts.
The benefits of the Mineral Hand Cream will become apparent even after a single use! But regular application of this cream will soften and protect the skin from extensive use of water and detergents and from other environmental hazards.
Directions: Massage gently into the hands, especially after using water or detergents. The cream will be quickly and easily absorbed, leaving the skin feeling soft and supple.
Mineral Hand Cream
$29.95
Exfoliating Foot Scrub 125ml
Natural Tea Tree plant particles, combined with perfectly spherical beads, are incorporated into this exfoliating formula.
The rough skin of the feet will become softer and much smoother even after a single 3-minute treatment.
Directions: Use the scrub after bathing, (hydrated skin enhances the removal of dead skin).
Apply an adequate quantity to clean dry soles, especially to heels, and wait about 1 minute before you begin treatment. Massage the required areas with deep, slow movements until the scrub is completely rubbed off.
Rinse with warm water. Pat dry and apply Bio Mineral Foot Balsam for a nice smooth feel.
Fresh Look Foot Scrub
$29.95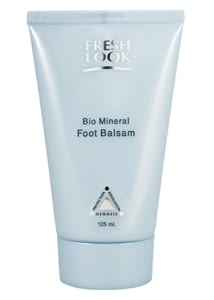 Bio Mineral Foot Balsam 125ml
A cream rich in natural active ingredients and essential oils. It softens and protects the soles of the feet and prevents cracks.
Contains a wealth of herbal extracts (Knotweed & Aloe) Mediterranean resins & essential oils (Myrrh, Sandalwood, Propolis and Styrax) to improve the hygiene of the feet.
Natural Jojoba wax provides emolliency to the non-greasy formula that is easily absorbed after a short massage. The cream softens and refines the skin of the feet and makes them feel smooth and fresh.
Directions: Ensure that the feet are clean and dry. Massage thoroughly into the soles once or twice a day. Ideal after exfoliating the rough skin with the Exfoliating Foot Scrub.
Fresh Look Foot Balsam
$29.95
Body Moisturizer 150ml
Herbal Dead Sea Body Moisturizer
A fine moisturizing body cream that protects the skin from dryness and leaves it feeling soft and supple.
Contains phyto-sterols that prolong the moisturizing effect on the skin, smoothing Centella extract to eliminate cracks, essential fatty acids (Vitamin F) to combat skin dryness and Dead Sea minerals to help bind moisture to the skin.
The body moisturizer spreads easily on the skin leaving a glossy protective film for hours. Excellent as a pampering treatment for delicate dry or mature skin.
Directions: Gently massage all over the body, especially after bathing.
Fresh Look Body Moisturiser
$29.95
Hygienic Cleansing Foam 200ml
An intimate cleanser in the form of a moisturizing foamy mousse. Foam dispensers considerably reduce the detergent concentration actually dispensed onto the skin, in order to minimize irritation.
Carefully selected preservatives include only the least sensitizing components. The acid pH of the product (pH 4) assists in maintaining hygienic conditions.
Directions: Lather an adequate quantity onto the appropriate external areas. Rinse off thoroughly with water.
Cleansing Foam 200ml
$40.00
Deo Cream 50ml
A deodorizing cream suitable for daily use. Keeps the skin dry and dispels undesired odours.
Natural Dead Sea minerals partially replace conventional salts used to obtain antiperspirant effect.
The formula also contains a herbal astringent extract and an aromatic oil derivative that acts as a deodorant for a sensation of freshness all day long.
Directions: Apply sparingly (a small quantity is sufficient) after washing and thoroughly drying the under-arm or other relevant areas of the skin. Do not apply shortly after depilation, shaving or other hair removal systems. Do not use on injured skin areas.
Fresh Look Deo Cream
$19.95
Dead Sea Spa and Body Care