Dead Sea Salt products from Jericho and Fresh Look skin care ranges have a range of benefits.
The 1.2kg Dead Sea Salt from Jericho are used to create a dead sea salt bath to alleviate itching conditions caused by Psoriasis and Eczema.
Other customers have used the bath salts to prevent and ease cramping as the minerals in the Dead Sea Salt products increases the circulation in the body.
About a cup of Jericho salts added to a warm bath 2-3 times a week is normally enough depending on the severity of your skin condition
Jericho Dead Sea Salt 1.2kg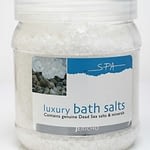 $45.00
Uncented/Scented
Dead Sea salt scrubs are also a very popular product used to remove dead skin cells from your hands,arms and legs.
The Salts scrubs come with various oils that also have a very soothing and smoothing effect on the skin.
Jericho Salt scrubs come in 300g and 700g sizes.
Jericho 300g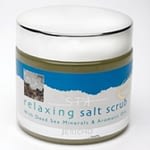 $35.00
Range options