Dead Sea Salt
The Dead Sea Salt and minerals have been a centre for therapeutic excellence for the past 2000 years.The dead sea was renowned during Cleopatra's time. She was the first person to seek exclusive rights to the dead sea, to build pharmaceutical and cosmetic factories.
The Dead Sea itself lies 400m below sea level and is one of the saltiest lakes in the world. In fact the dead sea salt is 10 times more concentrated than normal sea salt.It is one of the worlds largest natural spa's that everyone can float on.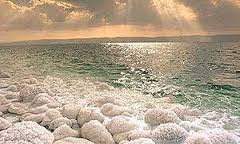 The dead sea salts contain the highest concentration of health enhancing minerals compared to any other body of water in the world.
Health Benefits of Dead Sea Salt
There are over 26 minerals present in the dead sea.To help you understand the healing benefits of the dead sea salts we must look at the mineral content of the salt and what effect that has on our health.
Magnesium
Magnesium is the fourth most abundant mineral in the body and is essential for good health.Approximately 50% of the total magnesium found in the body is found in our bones.The other half is found predominately inside cells of body tissue and organs. Magnesium is needed for more than 300 biochemical reactions in our body.It is responsible for activating enzymes that accelerate cell renewal helping the skin to look younger.
It helps to
•    maintain normal muscle and nerve function •    Keeps heart rhythm steady •    supports healthy immune system •    keeps bones strong •    regulate blood sugar levels •    promote normal blood pressure
Calcium helps to
•    Strengthens our cell membranes •    Cleanses our pores •    helps regulate our heart muscle and nerves •    vital for maintenance of healthy teeth and bones •    increase circulation •    prevent water retention
Sodium helps to
•    remove dead skin scales •    improves skins ability to absorb moisture(Especially important for people who have dry skin) •    balance fluid activity in the lymphatic system
Potassium helps to
•    energise the body (especially after intense physical work outs) •    balance skin moisture •    supply vital energy to skin cells
Bromide helps to
•    provide a natural antiseptic that heals and relieves skin ailments • relaxes and soothes nerve endings
Other minerals found in the dead sea salts include boron, manganese, chloride,strontium and zinc.
The dead sea salt provides a 100% natural treatment for a wide variety of health issues especially those associated with psoraisis,eczema and dermatitis.
The cleansing effects of a 20-30-minute salt bath has the effect of a 1-2 day fasting. The toxins are released into the bath water while the minerals from the salt are absorbed through the skin. This reduces the acidity in our body and balances our ph levels.
Watch this Video about Salt and Mud from the Dead Sea

Dead Sea Mud and Salt by Jericho provide many health benefits
Jericho Energizing and Relaxing Salt Scrubs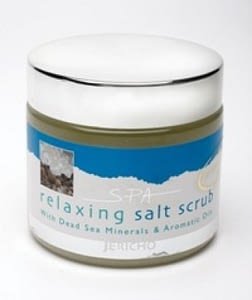 Combined with Aromatic oils the Jericho range provides both a relaxing and energizing option for customers.
These dead sea salts gently revives and exfoliates the top layer of dead skin cells which helps circulation and keeps your skin feeling smooth.
Very popular product………Jericho Salt Scrubs