Dead Sea Mud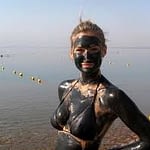 Those Magic Minerals
The Dead Sea mud from Jericho contains natural minerals that are reqiured by our skin to keep it looking fresh and young. Minerals such as magnesium,potassium,sodium,calcium and bromide are all required by the skin to help retain moisture levels.
Benefits we have found with the Dead Sea Mud by Jericho
Improves blood circulation
Peels away dead skin cells
Draws out impurities and toxins(black heads may appear after use)
Reduces wrinkles
We have found that the Dead Sea mud also provides effective relief for skin ailments such as psoriasis,eczema and acne.
Applying the Dead Sea Mud
When applying the mud either warm or cold you will feel your skin begin to tighten.As the mud dries out any toxins or impurities will be drawn out.This will leave your skin cleansed and purified. Leave the mud on your skin for 15-20 minutes and wash off with clear warm water.
Jericho Purifying Mud Mask
$48.00
Dead Sea Mud