Dead Sea Mineral Shampoo
Your scalp is the centre of your body through which all your energies flow. Jericho Dead Sea Mineral shampoo and hair care products with their unique composition of active Dead Sea minerals and plant extracts enable you to pamper your scalp and hair with daily and weekly treatments that increase blood circulation and skin rejuvenation.
A wide variety of Dead Sea mineral shampoo's, conditioners and hair masks nourish the hair and makes it look shiny and healthy.
Mineral Shampoo's
Jericho mineral shampoo suits all types of hair conditions. Jericho shampoo gently cleans,brightens and gives new body and shine to your hair. The high concentration of Dead Sea minerals in the shampoo's revitalizes the scalp and hair roots, resulting in strong and manageable hair.
Jericho Shampoo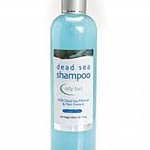 $30.00
Jericho Balsom Conditioner
$30.00
Black Mud Shampoo
Formulated specifically for oily and irritated scalp, this winning blend of Dead Sea minerals and black mud relieves itching and removes excess oil, leaving the hair feeling clean and healthy.
Jericho Mud Shampoo Dr Kremer
$33.00
Hair Masks
Jericho Mineral and Mud hair masks are ideal for your weekly hair treatments. The masks strengthen your hair and replace hair lost from exposure to sunlight or chemical treatment such as colouring,tinting,permanent or straightening. The masks are available for dry and curly hair,coloured and treated hair and oily and irritated scalp.
Some of my clients who have under gone chemotherapy have used these products with success.
Jericho Mud Mask especially formulated for irritated scalps
Jericho Mud Mask
$42.00 NOW only $12.00
Dead Sea Mineral Shampoo